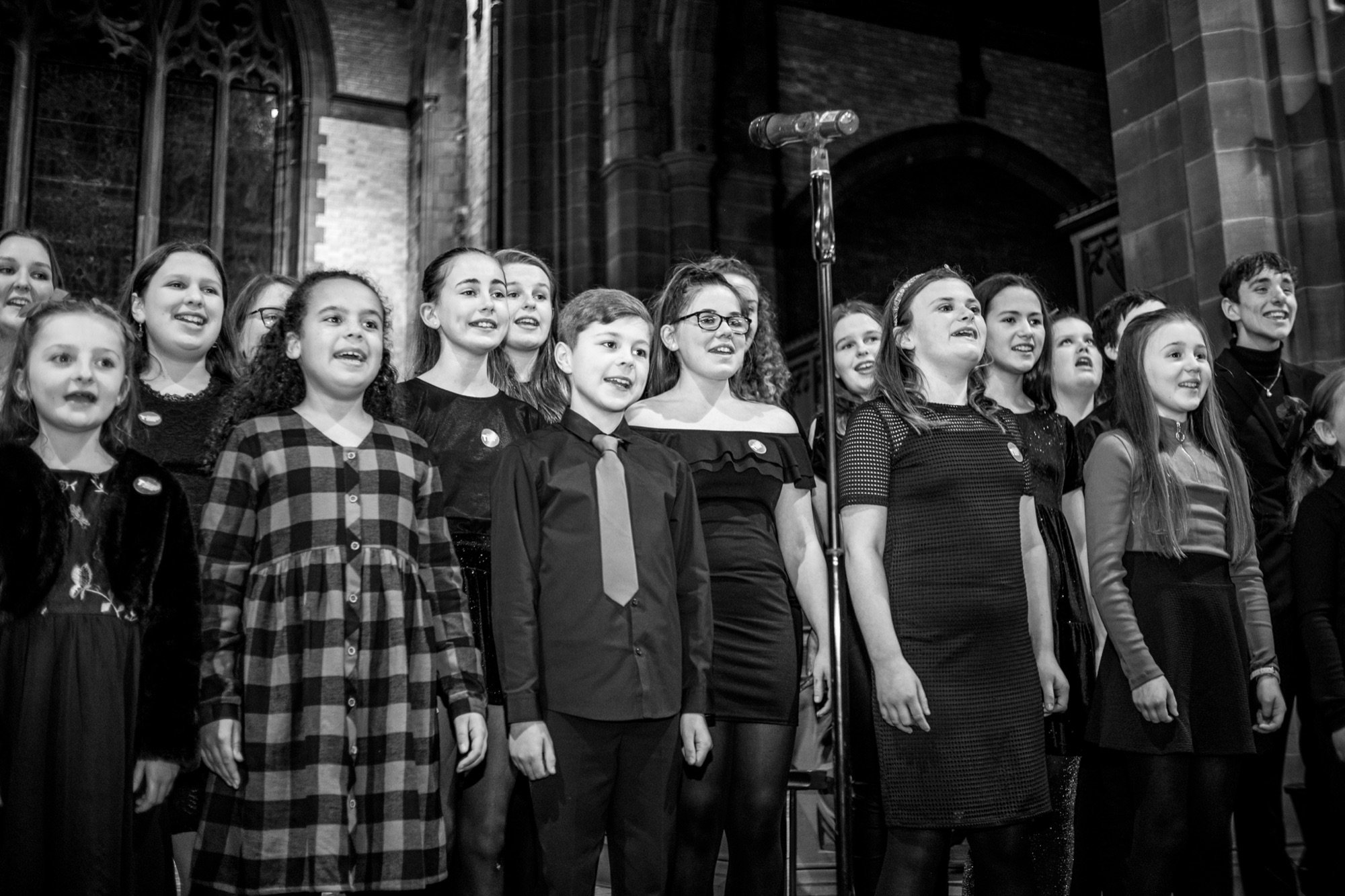 VOICE YOUR VOICE CHOIR
Voice Your Voice is a mutli-award winning modern youth choir for singers ages 7 - 18 years led by the principal of the academy, Catherine Victoria. We have lots of fun learning an array of fantastic musical repertoire and in addition to this you will take away with you the knowledge & power of real vocal technique. This is not something you get at your regular choir...at VOICE YOUR VOICE you receive professional vocal training, advancing your technique week by week in an enjoyable and relaxed environment!
OUR ACHIEVEMENTS
The choir is quickly developing respect from many establishments and since forming in September 2017 they have become multi-award winners, performed live on ITV & SKY SPORTS TV (25 million viewers) as well as at numerous venues and events including Disneyland Paris (alongside Mickey, Minnie, Goofy & professional Disney artists), the 2019 Netball World Cup Opening ceremony at Liverpool's M & S Arena, Liverpool International Music Festival (LIMF - Main stage) and many local festivals. The choir received 3000 votes to sing at the National Entertainment Awards in London in December 2019 and shortly after became the SMOOTH FM winner of "Carols On The Cobbles" which led the choir to perform at ITV studios on the famous Coronation Street set!
Despite the lockdowns in 2020, the choir continued online and were crowned winners of the North Regional Entertainment award for Best Choir, won an international online festival in and were featured on ITV's Granada Reports!
CLICK ON THE LINKS BELOW TO FOLLOW OUR SOCIAL MEDIA PAGES
INSTAGRAM: https://www.instagram.com/voiceyourvoicechoir
FACEBOOK: https://www.facebook.com/voiceyourvoicechoirformby
Our academy choir takes place at Formby Methodist Church Hall, 8 Elbow Lane, Formby, L37 4AF. If you are interested in joining please fill in our choir form here.
TUESDAYS
6.10pm - 7.10pm
Please enjoy our virtual choir video "Lovely Day" by Bill Withers created during lockdown 2020.
"My daughter loves singing in this choir. It's such a friendly choir and Catherine who runs it is amazing! Beth always mentions how kind she is. I love hearing them sing and can't wait for their concert in January!" J.P
"I just love Voice Your Voice Choir. Fantastic choir with amazing talent . Catherine is a wonderful director who brings out the very best in the choir . Whilst Catherine develops their confidence and abilities their performances continue to become more and more breath taking." J.F
"A lovely, friendly choir who have really helped my child to shine. From a very shy, selective mute to a confident performer, I can't recommend VYV enough." J.G
"Wow wow wow another first today when our daughter Meg performed on Coronation Street @ the ITV studios! They sounded fantastic and her smile and enthusiasm was priceless. With this choir she has blossomed we can't thank Catherine enough." D.C
"Felicity loves going to sing with the choir, singing in Disney last year was magical. Catherine is extremely professional and brings the best out in the children, the music and singing is amazing, yet at the same time all the students are like family , they help each other and encourage each other regardless of age and experience. I would completely recommend The Catherine Victoria Academy." D.F
It is a very professional and friendly group that brings the best out of the children and young people's abilities. The children really enjoy what thwy are doing and it shows in the beautiful sound they create." K.R